www.MagicGSM.com
INTRODUCTION

Back in the 20th Century I never owned a
mobile phone
because they didn't really do all the things I wanted them to do. I wanted maps, personal information synchronizing, email, internet, music, movies... THE WORKS!
With the i-mate JAM Pocket PC Phone, I've got what I was looking for and it's just as small as a regular mobile phone. The just-released i-mate JAM is an i-mate branded version of HTC's Magician Pocket PC Phone. Normally, a number of different carriers license and rebrand HTC's phone designs for their own retail sales. The HTC Magician is also available as the Q-tek S100, T-Mobile MDA Compact, O2 XDA II Mini, and Dopod 818. All of these devices are the same hardware-wise, but may differ in the applications preloaded into the device ROM.
WHAT'S HOT
The i-mate JAM is the smallest Pocket PC Phone to hit the market. It's also the smallest Pocket PC for that matter. It's the first with a 2.8" screen, but retains all the power of a full-sized Pocket PC.
Take a look at the table below to see some comparisons on the size of the imate JAM. The JAM is smaller than any other Pocket PC, however it's still a bit bigger than the Audiovox SMT 5600 Windows Mobile Smartphone. That's not a bad thing though since the JAM is jam-packed with power. I think that's how it got it's name.
| | | |
| --- | --- | --- |
| Device (no cover) | Size (inches) | Weight (grams | ounces) |
| i-mate JAM | 4.1875" x 2.3125" x 0.6875" | 150 | 5.3 |
| i-mate PE2003 | 5.12" x 2.39" x 0.72" | 190 | 6.69 |
| Audiovox SMT5600 | 4.3" x 1.8" x 0.6" | 100 | 3.50 |
| HP iPAQ h6315 | 4.68" x 2.95" x 0.73" | 190 | 6.70 |
| HP iPAQ rz1715 | 4.48" x 2.75" x 0.53" | 120 | 4.23 |
| HP iPAQ 2215 | 4.57" x 2.95" x 0.63" | 142 | 5.01 |
| HP iPAQ 1910 | 4.46" x 2.75" x 0.50" | 120 | 4.23 |
| HP iPAQ 5450 | 5.43" x 3.30" x 0.63" | 206 | 7.26 |
| Dell Axim X3i/X30 | 4.60" x 3.21" x 0.58" | 138 | 4.80 |
| Dell Axim X5 | 5.00" x 3.20" x 0.71" | 196 | 6.90 |
| Toshiba e740 | 4.90" x 3.10" x 0.60" | 190 | 6.70 |
| Toshiba e310 | 4.90" x 3.10" x 0.40" | 138 | 4.90 |
WHAT'S IN THE BOX
The top part of the box includes documentation, a vinyl belt clip case, and an ActiveSync/Outlook 2002 CD.
Underneath is a carton containing the i-mate JAM, European AC adapter, mini USB sync cable, stereo headset, battery and one extra stylus. Since Expansys knew they were shipping this one to the USA, they also included an adapter for the American power outlets, but frankly I don't even use that. It's easier to just plug the sync cable into your computer, or car USB adapter, or AC USB adapter.
PRODUCT FEATURES
The i-mate JAM includes a 416Mhz Intel PXA272 processor, 64Mb ROM, 64Mb RAM, 1.3 Megapixel camera, 24 bit color, 900/1800/1900Mhz GSM/GPRS, and Bluetooth 1.2. A version that includes 800/1800/1900Mhz GSM should be available in 2005. It also includes a 1200 mAh removable battery, mini-USB sync port, and Windows Mobile 2003 Second Edition with Windows Media Player 10.
Less than three years ago the most powerful integrated Pocket PC mobile phone consisted of a Compaq iPaq and the GSM/GPRS Expansion pack seen on the left. Then in 2003 the first Pocket PC Phone with Bluetooth headset support was released (HTC Himalaya - center). Another year later, and now we have the HTC Magician; smallest Pocket PC Phone yet.
The i-mate JAM makes the HTC Himalaya Pocket PC Phone feel like a brick.
Everyone else on New York's Metro North train has an iPod in one hand and a cell phone in the other. One device smaller than either is definitely the way to go.
An Apple iPod is only slightly wider than the i-mate JAM.
Above is a straight photo in low-light that compares the screen size of the JAM to the 3.5" screen of the i-mate Pocket PC Phone 2003. The hand-made screen protector I put on the JAM seems to be doing weird things to the screen's appearance. Hopefully some one will release better screen protectors for this size soon. As you can see, the 2.8" screen of the JAM is still perfectly usable. I was afraid it would be too small, but in use, it's really quite nice.
On the back of the JAM you see a rubber covered hole for an external antenna, a self-portrait reflection mirror, and the lens for the 1.3 megapixel camera. Next to the mirror is also a slit for the external loud speaker. I'm not sure why they needed a speaker on the front for the phone as well as a speaker on the back for other audio. Personally, the inside of my hand doesn't hear very well and muffles the rear speaker. Usually the front of the PDA is what's facing towards me.
At the top of the JAM is a slot for an SDIO card, as well as a loop hole for a wrist strap.
The right side only includes a power button at the top (just next to the stylus slot, and the infrared port at the bottom. The infrared port is so integrated with the black casing it's very hard to see.
The other side holds a volume slider along with two customizable hardware buttons labeled with camera and notes icons.
On the bottom of the JAM, you see a microphone hole, mini-USB port, audio jack, and soft reset hole.
Here's the JAM in the included belt-clip case. I don't think I'll be using this. The JAM feels much safer in my pocket.
The i-mate JAM with the smallest Bluetooth headset. The JAM makes my Bluespoon AX look very big.
The JAM works beautifully with my Bluetooth GPS receiver and car stereo audio adapter from Pocket PC Techs. The audio adapter actually works better than it did with the XDA II, since there's no rubber flap getting in the way.
Windows Media Player 10
The i-mate JAM is the first Pocket PC Phone to come with Windows Media Player 10 for Windows Mobile. This gives you some excellent new features that tightly integrate with the desktop version of Windows Media Player 10 as well as Windows XP Media Center 2005. It makes your Pocket PC function like a full blown Portable Media Center (minus the multi-gigabyte hard drive).
I love the way the new Media Player interface shows the album art for each song.
In Media Center 2005, you can use your remote control to set up automatic synchronization of your music, videos, and recorded TV shows.
Media Center automatically synchronizes your content whenever you connect your Pocket PC to ActiveSync. If you specified Recorded TV content to be synced, Media Center will convert the TV recording to a more appropriate size for the smaller screen. An excellent feature in this system is that the conversion will occur behind the scenes after the program is recorded, that way the copying to the device is much much faster. On the lowest quality setting, Media Center can compress an hour long TV show to about 40Mb. One problem is that Media Center 2005 and Media Player 10 cannot sync through a bluetooth based ActiveSync connection, so you'll have to connect using the USB port.
The playlists you selected to synchronize automatically appear in the Pocket PC's Media Library. Finally!
Phone
HTC has added some new software to Microsoft's regular Phone application. The Phone program on the JAM has an added feature that automatically matches numeric entry with contact names in your Contacts listing. This makes it very easy to dial a contact one-handed using standard T9 style text entry. I only wish they had designed it to be a bit more attractive. The beveled gray borders, yellow highlights and aquamarine backgrounds all clash with the normal Pocket PC Phone application interface.
Caller ID
Since HTC bought out IA Software, they have been integrating and improving their software for Pocket PCs. The latest version of Caller ID is included in the JAM's ROM and adds some welcome features. For example you can now assign specific ring tones to each contact or a group of contacts.
Caller ID supports a variety of ringtone file types including WMA, WMV, WM, ASF, MP3, WAV, 3GP, MID, and MP4. However, the JAM may not be able to handle playing multimedia files as ringtones when they're on a storage card. You best bet is to make small ringtone files and keep them in main memory.
When a call comes in the photo appears in a bubble. The photo will not appear when you're making a call from the contacts app though.
Photo Dialer view lets you scroll through all your contacts who have photos assigned and quickly tap their picture to make a phone call.
Messaging
The i-mate JAM includes the general Pocket PC Inbox application which has been renamed to "Messaging". It supports IMAP/POP3 email, Exchange Server syncing, ActiveSync email sync, and... with the support of an add-on from Arcsoft... Multimedia messages (MMS). One would hope that Windows Mobile 2003 Second Edition would fix some of the bugs that have plagued this Inbox application for many versions, but no... Draft emails still do not sync with IMAP servers nor Exchange Server.
You have to configure the MMS Settings from the Tools menu, not the Accounts Options like you would expect.
You'll have to create a new server here in order to set it up for your GSM service provider... unless your version has already been customized by your service provider (which will likely be the case for the O2 and T-mobile versions).
If you're using T-Mobile USA, you can see the correct settings above. You may have to enable MMS or Picture Messaging support with your provider first.
An icon in the title bar appears when you're downloading the content of an MMS message.
MMS messages can be read in the MMS account folders. For some reason, I couldn't get my MMS picture attachments to download. It worked fine on my i-mate Pocket PC 2003 with the same settings and software. T-Mobile USA couldn't figure out why it wouldn't work as everything was correct on their end.
The JAM also sports a new software input panel from HTC. "Phone Pad" as it's called on the i-mate JAM is a big-buttoned T9 style input program. If you need to enter text one-handed, this is the thing to use. It's just like using a numeric keypad with your thumb. One problem is that it does take up more space vertically, so you might find some user interface elements become inaccessible when using this input method.
Phone Pad also reformats itself for use in landscape screen orientation mode. Not bad, but now all the numbers are in different places.
Continue On: Camera / Screen Orientation / Benchmarks / Conclusion. . .
Back to pocketnow.com |
Discuss this Review
Panasonic Eb-A101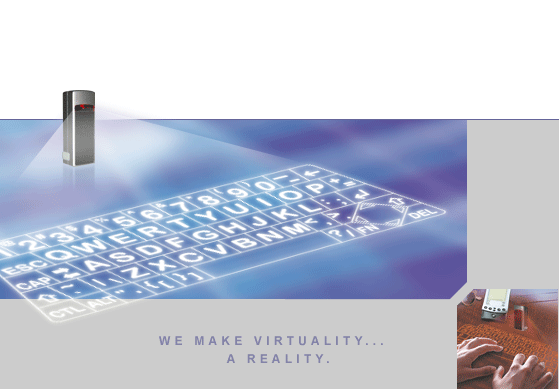 j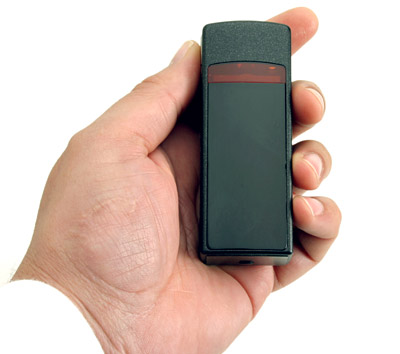 www.davesipaq.com
www.trustedreviews.com
www.pocketpccanada.com
www.pocketfreak.dk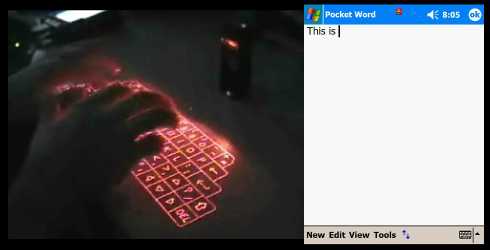 Mitac Mio 168 Pocket PC with Integrated GPS

Posted March 6, 2004 by Lisa Gade, Editor in Chief, and Tong Zhang, GPS Guru and Senior Editor

Palm OS users who wanted an integrated GPS had their prayers answered by the Garmin iQUE 3600 in 2003. Pocket PC users now have the Mitac Mio 168, introduced March 2004, as their all-in-one solution. Mitac has been selling the Mio line of Pocket PCs and MS Smartphones in Asia, and we could only admire those devices from a distance here in the US. The Mio 168 is Mitac's first venture in the US market, and it should be a hit. It features a bright and colorful display, a very loud speaker (great when using it as a GPS in the car) and a compact design.

While the iQUE is a strong PDA, Garmin is a GPS company and seems to view this model as a GPS first. We met with Mitac's Business Development Manager and Sales Manager in their Northern California office, and were impressed that they saw the Mio 168 as a PDA first and a GPS second. After all, if you merely wanted a GPS, you could buy one of the many standalone models available today. Mitac realizes the importance of offering and supporting a full featured Pocket PC running Windows Mobile 2003. Not that we weren't also impressed with their focus on the GPS: they thoroughly evaluated GPS hardware and mapping solutions in their quest to offer the best integrated GPS solution.

Design and Ergonomics

The Mio 168 is a very attractive, modern and compact device. The casing is finished in bright silver and has pleasing curves. Like the Garmin, the GPS antenna is mounted on the top rear, and swings out and up for use. The GPS receiver housing is apparently very rugged, as the Mitac folks demonstrated by banging the GPS section onto the table while it was folded down against the rear of the PDA!

The Mio has two LEDs that indicate charging and alarms. The speaker and mic are located on the front near the bottom of the PDA. It has a 5-way joystick navigator, and the usual four button for quick launching applications. The left button group and right button group are each made of a single piece of plastic but can be pressed simultaneously. The power and record buttons are located on the left side of the unit, and the pleasingly thick telescoping stylus slides into a top-loading silo on the right top edge of the unit. For those of you who turn on the unit with accidental button presses, you'll be happy to know you can disable power on when the record button is pressed and/or when the application buttons are pressed. The 2.5mm (the size used by mobile phones) stereo headphone jack is on the lower left side of the unit. The SD slot is located on the top, as is the IR port. The soft reset hole is on the left side of the unit. Don't mistake the on/off slider switch on the back for the soft reset, it hard resets the Mio back to factory settings!

Questions? Comments?
Post them in our Discussion Forum!
Inside the box you'll find a CD which includes ActiveSync 3.7.1 and MS Outlook 2002, mapping CDs for the US (except Alaska) and Canada, a thick printed manual, stereo earbud headphones, a world charger (range of 100v to 240v) and a USB sync cable. The Mio 168 doesn't come with a cradle, so you'll sync using the included cable. The charger plugs into the USB cable, so you'll need to bring both if you need to charge the Mio when traveling. The Mio also comes with a car charger and dashboard mounting bracket— a nice touch, as this accessory package can run $50 when you must purchase it separately with other GPS units and the Garmin.
Size Comparisons and Additional Photos
Horsepower and Features
The Mio 168 has a PXA 255 Intel XScale processor running at 300 MHz. That's a middle-of-the-road processor, with the 400 MHz XScale models being the fastest. The Mio has 64 megs of RAM and no NAND flash ROM available to the user.
The unit runs Pocket PC 2003 Premium Edition, which is the full featured version of the OS (compared to PPC 2003 Professional Edition). This means MS Reader, Terminal Services and Microsoft's new Images program come pre-installed in ROM. For expansion, you've got IR and an SD slot supporting SDIO. I tested the Mio with the SanDisk SD WiFi card and it worked perfectly
.
Video playback was quite good using Pocket MVP and Pocket Windows Media Player, especially for a 300 MHz unit. MPEGs, AVIs and ASF files recorded at 300k bitrate played back smoothly with only a few dropped frames per thousand played. Videos encoded at 600k showed some occasional loss of audio sync and had a higher percentage of dropped frames. Considering that most videos available on the web are encoded at 300k or less, the Mitac should be more than adequate for most users.
Screen, Sound, and Gaming
Transflective displays, currently one of the best touch screen LCD display technologies have become standard on PDAs and the Mio 168 has a 3.5" transflective display. This is an absolutely gorgeous display! It's exceptionally bright and vivid, having some of the nicest colors I've seen on a transflective PDA. The color bias is fairly neutral, and is perhaps a bit on the cool side. It doesn't suffer any color shift when viewed from an angle as do the iPAQ 1900 series Pocket PCs.
The sound volume is exceptionally loud. You won't miss alarms and will probably turn down the sound unless you're using the unit in the car. MP3 playback sounded good using the included earbud stereo headphones as did the audio tracks of movies.
How about gaming? Hard core gamers favor the fastest PDAs just as they want the fastest possible desktop machines. That said, the Mio 168 did a very good job with demanding games, and didn't send me running for my 400 MHz Toshiba e805. Hexacto Bounty Hunter Pinball, Bust 'Em. and Metalion 2 played quite well. In fact, Metalion 2 ran better than on several other Pocket PCs we've tested. The application buttons and joystick behaved well in these games, with no button lag and no problems with simultaneous button presses. However, the nipple-like joystick is small and will take getting used to when gaming.
Battery Life
The Mitac Mio 168 has a 1350 mAh Lithium Ion battery that is not user replaceable. That's a good capacity battery, and the Mio needs it to power the GPS, though of course you can use the included car charger when using the GPS for trips. We were impressed with battery life and got runtimes well over 3 hours with the power management set to high performance rather than battery conservation. In a mix of web surfing using the SanDisk SD WiFi card, playing games, watching movies on an SD card, working with MS Office docs and using the PIM apps, we got an average of 3.75 hours per charge. For less demanding tasks such as playing MP3s with the display turned off, using PIM functions and working with Office docs, you'll likely get longer runtimes, while using WiFi continuously, gaming and playing videos will shorten runtimes.
Software Bundle
The Mio 168 comes with Windows Mobile 2003 Premium Edition, which is the more full-featured version of the OS. It includes Pocket versions of Outlook, Word, Excel, Internet Explorer, Windows Media Player, MSN Messenger, Pocket MSN, Terminal Services Client, Pictures (an image viewer) and Microsoft Reader. Of course, you get the GPS software detailed below, and a few of Mio's own apps for the 168. eBackup allows you to backup and restore your Mio using an storage card, eMenu is a nice application launcher and status app that shows you the number of unread emails in your inbox, upcoming appointments, tasks, as well as battery status and amount of remaining storage space. Below that, there's an application launcher with tabs for Programs, Multimedia, Games and Favorites. You can edit groups and create new ones as well as add/remove icons in groups. E-Viewer is a very nice image viewer application that reminds me of Resco's fine image viewer. It supports BMP and JPEG images, has a file browser, slide show, screen capture, text and audio annotations and an email function.
Benchmarks
We've run benchmarks using VOBenchmark 3 from Virtual Office Systems. I've compared the iPAQ 2215 and the iPAQ 1945 to the Mio 168. All tests were run with units fresh out of the box with no other software added. The iPAQ 2215 is 100 MHz faster than the Mio, so we don't expect to see equal performance. Rather we hope you can see the difference in numbers when selecting a unit that runs at 300 MHz vs. 400 MHz. I was very impressed with the Mio's Auto performance mode which like other Pocket PCs with this feature, should scale back on performance for low demand tasks and ramp up when demand is high. The Mio did a better job of ramping up performance in auto mode compared to other Pocket PCs with this kind of feature. Higher numbers are better (shown in bold).
Test
Mitac Mio 168 (PPC 2003, Intel PXA 255 300 MHz processor)
Auto/High Performance speed setting
HP iPAQ 2215

(PPC 2003, Intel PXA 255 400 MHz processor)

HP iPAQ 1945

(Samsung 266 MHz)

CPU Floating Point
9.50 / 9.50
12.68
9.33
CPU Integer
20.13 / 20.11
26.96
18.39
Graphics Bitmap BitBlt
3.70 / 5.39
78.25
28.06
Graphics Bitmap StretchBlt
10.90 (grow) 7.50 (shrink) /
21.40 (grow), 313.20 (shrink)
76.70 (grow) 28.60 (shrink)
14.40 (grow) 11.50 (shrink)
Graphics Filled Ellipse
1.06 / 1.61
4.68
2.67
Graphics Filled Rectangle
1.07 / 1.99
12.94
5.99
Graphics Filled Round Rect.
0.95 / 1.09
3.82
2.15
GAPI Lines
21.40 / 30.60
N/A
35.90
GAPI Max FPS
104.47 / 104.16
N/A
N/A
GAPI Max Sprites
238 / 239
N/A
N/A
Memory Allocation
8.47 / 8.47
11.23
8.56
Memory Fill
1.05 / 1.05
1.97
1.34
Memory Move
0.88 / 0.88
1.24
0.77
Text

4.90 /

7.10

with

ClearType enabled

5.20 with

ClearType enabled

6.20 with ClearType enabled
GPS
(GPS section by Tong Zhang)
The built-in GPS uses the SiRF chipset and the Mio 168 supports the standard NMEA protocol and map data that's within this protocol with supported Baud rates. Mitac has bundled Destinator 3 navigation software with the Mio 168, and the map data and POI database are provided by NAVTECH. To read more about how navigation software and map data work with GPS hardware, read our guide here. The navigation software provides turn-by-turn directions, visual and voice guidance. The map data shows you the street-level maps and POI (Point of Interest) which gives you a list of useful locations (such as ATMs, gas stations, movie theaters, restaurants and a lot more) near your destinations. There is also a GPS status screen where you can see the number of GPS satellites the unit has acquired. Of course, the beauty of having the GPS receiver and software built-in is the tight integration they offer with the Pocket PC's built-in applications. The Mio 168 also offers a convenient one-touch hot key press for launching maps, GPS stats screen or POI database using one of the hardware buttons.
GSP Status
You can launch the Mio Map GPS application by either going into the Programs group or press the Hot Key button. The built-in GPS receiver takes under 1 minute to get a 3D fix in a cold start and a few seconds for a warm start. The receiver tracks 5 satellites consistently and gets very good signal strength in the Silicon Valley area. The Mio Map GPS has a simple but intuitive interface that shows the number of satellites the GPS is tracking, Latitude, Longitude, Altitude readings, Velocity, Date and Time as well as a visual chart of satellites and their signal status. You can also change COM Ports, Baud Rates and Protocols in GPS Settings.
The SiRF chipset in the Mio 168 receiver is capable of supporting WAAS, however Mitac is still in the process of implementing WAAS support on this Pocket PC. If you want to know more about WAAS, read our FAQ. The receiver's sensitivity seems to be tuned very well and gave very accurate readings for locations in our tests even without the WAAS support.
Map Installation

The map and POI data comes on 2 CDs. You can install the map data in 11 languages including Hebrew. Once the map application is installed, you can launch the Mio Map console to start cutting maps and installing maps to your Pocket PC. Mio Map includes 49 US States (not including Alaska) and Canada, and it divides the maps into 9 files. The largest map file is 224MB and the smallest is 3.2MB (Hawaii).

Mio Map offers a unique feature that allows you to cut parts of these 9 individual maps and only install the maps that are near your destinations and waypoints. This feature allows users to save space on their Pocket PC by only installing the maps they need. The map cutting process is very easy, just use the Crop map tool and the application will save your new map into a separate file. You can give the new map file a name and short description, and it will show up on the Mio Map Console, ready for download. Once you've selected all the maps you wish to download, you can load the maps onto your Pocket PC's internal memory, memory card or a card reader.

If you are planning a cross-country trip and need to map a continuous route for the entire trip, you will need to get an additional map package called Route USA from Destinator for an additional $50. It includes all major roads across the country in a single map, but it doesn't include a POI database. This is because Mio Map only allows you to map start and end points within the current map's region.

Navigation and Driving Guidance

Once you've installed the maps and received GPS satellite signals, you can start navigating your routes on the Mio 168 Pocket PC and getting driving guidance. You can input origins and destinations by entering new addresses, selecting Points of Interest from the database, using contacts in your Contacts database, or selecting destinations you've saved to your Favorites and from History list. You can add waypoints and avoid roads in your trip planning, however there is no option to select the types of roads you wish to avoid. You must input either the type of roads (highway, bypass, etc.) or the name of the streets you wish to avoid manually. If you've already mapped out a route and wish to avoid the streets on your route, you can just click on the road/street names to re-route your trip. The trip plans we've created seem on target. You should play with the options of quickest route or shortest rout to find the best routing possibilities.

The options for viewing routes and directions are extensive. You can view the route map in 2D, 3D or Bird's-eye view and use the stylus to drag the map around. There is a very nice sliding bar on the right side of the map for you to zoom in and out easily, and you can also use the 5-way joystick's up/down controls to zoom the map. Pressing the joystick to the left or right will change the map's compass setting. You can change the color skin for daytime and nighttime viewing. In addition, the Destinator software bundled with the Mio 168 actually allows you to add additional skins and voices. You can download these skins and other files from Destinator's web site.

The Turn-by-Turn driving directions view will give you a map view with next turn instructions and the Driving Directions view will give you the entire trip turn instructions in text with turn icons and distance between each turn. There is also a Show Route view that gives you a map view of the entire trip as well as a summary of the trip. If you miss your turns while driving, the Mio Map will recalculate the route on-fly. The recalculation starts very soon after you've missed a turn and it takes only a couple of seconds to give you a new route direction.

The voice guidance given by the Mio 168 is one of the best we've ever tested. The turn notifications come on twice before each turn (one at 200 yards to the turn; one at the turn). The voice guidance will also notify you how long you will need to drive on the same road after a turn. Unlike the first generation of digitized voice guidance, the Mio Map has a very nice and friendly human voice. Thanks to the Mio's loud speaker, the voice guidance can be heard loud and clear over road noise. There is a nice option where you can turn on or off certain voice alert prompts such as "over the speed limit", "Route Recalculation", etc. as well as the visual notifications of the alerts such as map flashing when an alert comes on. Mio Map also offers the ability to save your routes and play them back later.
About the Map Data
Mitac licensed the NAVTECH map data, which is one of the most detailed and updated map sources. The North America map bundle includes street-level maps and highway data for the 49 States in the US as well as selected metro areas of Canada. The street-level maps and database from NAVTECH include a large number of POIs (points of interest). They not only get the most up-to-date material collected from all levels of government, planning agencies, police and fire departments and aerial photographs, but they also collect first hand data in real time. NAVTECH has over 100 field offices staffed with over 400 analysts and engineers who drive everyday to collect data and feed it daily to the live database. NAVTECH uses up to 150 data attributes in each road segment that may affect the way you get from one place to another. These road attributes are characteristics of the roads and include road names, address ranges, turn-restrictions, one-way Info, time of day restrictions, speed limits, and more. If you wish to sample the map data, you can use MapQuest.com since it also uses the map data provided by NAVTECH or check out NAVTECH's web site.
Conclusion
General PDA features: If you're looking for a PDA with an integrated GPS, then the Mio 168 and the Garmin iQUE 3600 are your only choices. If you're a Pocket PC person, then this is your only choice. Fortunately it's an excellent choice! The Mio 168 is very compact, attractive and doesn't make concessions. It's got an excellent display, a loud speaker, very good performance for a 300 MHz unit and even supports SDIO. The price is very attractive given the Pocket PC's features and quality plus the built-in GPS.
GPS features:
Pros: The built-in GPS provides a very nice integration of the hardware and software. The GPS receiver gets very good signal strength in this area, and takes short cold and warm start time. The Destinator navigation software bundled in the Mio 168 provides a good set of features for easy navigation and complete driving guidance. The voice volume is the loudest we've heard on a built-in and external GPS device. The voice guidance performed very well in our test. The ability to change the look and feel (skins and voices) is a new and exciting feature for GPS enthusiasts. The NAVTECH map data provides updated info and POI database. The map cutting is a unique way to save storage space on your Pocket PC and allows users to customize their own map database. The navigation is easy thanks to various ways of inputting your destinations.
Cons: You need to pay an additional $50 to get Route USA for cross-country trips, and the Route USA map only includes the major roads and doesn't come with POI database. It would be nice to have more out-of-box granularity in trip planning on the Mio 168, such as check boxes for avoiding highways, bypasses, local roads, etc. instead of inputting them manually.
www.mio-tech.com Suggested list price $499
Specs:
Display: transflective TFT color LCD, 65K colors, Screen Size Diag: 3.5", Resolution: 240 x 320.

Battery: 1350 mAh Lithium Ion Polymer rechargeable. Battery is not user replaceable.

Performance: Intel XScale PXA 255 300 MHz processor. 64 MB built-in RAM (62.82 megs available). 32 MB Intel Strata Flash ROM for OS.

Size: 4.4" x 2.7" x .64" Weight: 5.20 oz.

Audio: Built in speaker, mic and 2.5mm stereo headphone jack (stereo earbuds included). Voice Recorder and Windows Pocket Media Player 9 included for your MP3 pleasure.

Software: Pocket PC 2003 Premium operating system (aka Windows Mobile 2003). Microsoft Pocket Office suite including Pocket Word, Excel, Internet Explorer, and Outlook. Also, Terminal Services, MSN Instant Messenger for Pocket PC, MS Reader and Voice Recorder as well as handwriting recognition. ActiveSync 3.7.1 and Outlook 2002 for PCs included. GPS software include Mio Map, Mio Map GPS and Mio Map POI.

Expansion: 1 SD (Secure Digital) slot, 4 bit data bus, supporting SDIO.

Networking: None included. Can use accessory IR modems and SDIO networking cards.